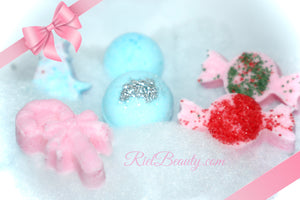 Comes with 5 assorted Christmas themed bath/shower bombs! Dual use! ❄️
Use as a shower fizzie or bath bomb! 
For a shower fizzie: 🚿 
Place in an area where the water hits it indirectly to activate it. Helps wake you up and open airways to reduce nasal inflammation due to allergies or a cold!


For a Bath Bomb: 🛁 
Place into a tub of warm water and enjoy! Peppermint can ease muscle pain and reduce headaches while you relax!
Organic ingredients, cruelty free, & made in the USA. 
Exclusively made at RielBeauty LLC headquarters in Las Vegas,NV! 
bath bomb styled may vary