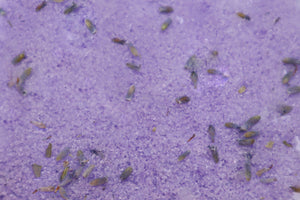 10 ounces of lavender sugar lip scrub! Rename and repackage this dreamy lavender lip scrub for your beauty business! Real organic lavender essential oil and lavender buds. Comes in a purple hue.
How To: Add enough to exfoliate your entire lips and scrub away dead skin to naturally plump lips! 
(Lavender buds will be in a separate packet for you to add or leave out as desired.)
Storage: Store in a cool dry place! Lip scrub containers are not included! No logo on product ready for your brand!
Cruelty-Free and made in the USA ! 
 Ingredients: 
•Organic undiluted 100% lavender essential oil.
•Organic lavender buds (food grade) 
•Organic virgin coconut oil 
•Organic food grade food coloring (little is added to create the purple color ! 
Always made with high quality natural ingredients!