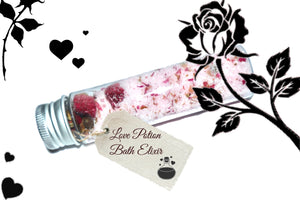 Includes 1 Love Potion Elixir for your bath ! ♥️
Feel the love and simply drop in your tub. Enjoy the beautiful scents of Roses, infatuation, and relaxation! 
ROSE EMBEDDED BATH SALT CRAFTED TO RELEASE MUSCLE TENSION AND INFLAMMATION, PURIFY THE SKIN AND RELIEVE STRESS.
•CHEMICAL FREE
•PRESERVATIVE FREE
•VEGAN AND CRUELTY FREE
•ALL-NATURAL AND PLANT-BASED
Love Potion💕: 
Bathe in a luxurious bath filled with love ! 
•Dried Rose Flowers 
•Rose Essential Oil
•Magnesium Sulfate (Epsom) 
•Pink Himalayan Salt
•Natural food grade tint (pink/magenta)
Disclaimer: May turn your water slightly pink 
Vegan/Cruelty-Free
 •Magnesium is the fourth most abundant mineral in the body.
•Promotes Sleep and Stress Reduction
•Restore elasticity of skin and retains hydration
•Soothes sore muscles after a long day !