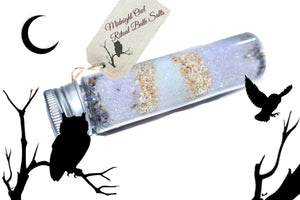 Includes 1 midnight owl bath potion.
LAVENDER EMBEDDED BATH SALT CRAFTED TO RELEASE MUSCLE TENSION AND INFLAMMATION, PURIFY THE SKIN AND RELIEVE STRESS.
•CHEMICAL FREE
•PRESERVATIVE FREE
•VEGAN AND CRUELTY FREE
•ALL-NATURAL AND PLANT-BASED
Midnight Owl🦉 :
A lavender & Oats relaxing and calming night bath. 🌙 
•100% Undiluted Lavender Essential Oil
•Real Dried Lavender Buds
•Organic Oats 
•Food grade coloring (purple) 

•Magnesium Sulfate (Epsom Salt) 


Handmade in the USA 
Cruelty-Free
Vegan
 •Magnesium is the fourth most abundant mineral in the body.
•Promotes Sleep and Stress Reduction
•Restore elasticity of skin and retains hydration
•Soothes sore muscles after a long day !