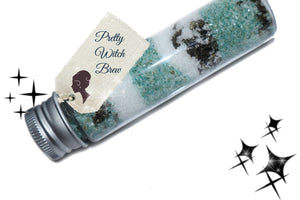 Includes 1 bath potion 🧪 
Pretty Witch Brew🧙🏻‍♀️:
A beautification potion for you and your bath! Feel beautiful inside and out through self care and self love!
•Green Tea Buds 
•Green Tea Leaves 
•Rose Petals 
•Magnesium Sulfate Epsom
•Rose Green Tea 
•Bath Salts
Vegan-Friendly always Made in the USA !

GREEN TEA EMBEDDED BATH SALT CRAFTED TO RELEASE MUSCLE TENSION AND INFLAMMATION, PURIFY THE SKIN AND RELIEVE STRESS.
•CHEMICAL FREE
•PRESERVATIVE FREE
•VEGAN AND CRUELTY FREE
•ALL-NATURAL AND PLANT-BASED