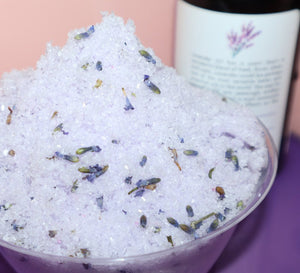 Soak in a lavender oasis with this detoxifying, relaxing, and stress relieving bath soak! Add to your late night bath or foot spa! Always vegan and cruelty-free!
Our new bath salts Provides Magnesium.
•Magnesium is the fourth most abundant mineral in the body.
•Promotes Sleep and Stress Reduction
•Restore elasticity of skin and retains hydration
•Soothes sore muscles after a long day !
Ingredients:
-100% Pure Organic Lavender Essential Oil
-Real Lavender Flower Buds
-100% PURE Epsom Salt (Releases Magnesium which serve important bodily functions)
-Natural light coloring (Purple) 
Disclaimer: During delivery and transport the Summer Heat and humidity may make Epsom Salts harden and cake.

Run through warm water and use the bath soaks as usual! Hardening doesn't affect the benefits of your bath salts !