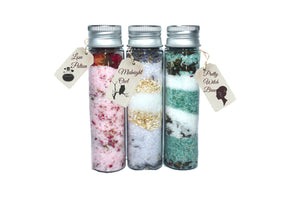 ROSE, GREEN TEA, AND LAVENDER EMBEDDED BATH SALTS CRAFTED TO RELEASE MUSCLE TENSION AND INFLAMMATION, PURIFY THE SKIN AND RELIEVE STRESS.
•CHEMICAL FREE
•PRESERVATIVE FREE
•VEGAN AND CRUELTY FREE
•ALL-NATURAL AND PLANT-BASED

Love Potion💕: 
Bathe in a luxurious bath filled with love ! 
•Dried Rose Flowers 
•Rose Essential Oil
•Magnesium Sulfate (Epsom) 
•Pink Himalayan Salt
•Natural food grade tint (pink/magenta)
Disclaimer: May turn your water slightly pink 
Vegan/Cruelty-Free
Midnight Owl🦉 :
A lavender & Oats relaxing and calming night bath. 🌙 
•100% Undiluted Lavender Essential Oil
•Real Dried Lavender Buds
•Organic Oats 

•Magnesium Sulfate (Epsom Salt) 


Handmade in the USA 
Pretty Witch Brew🧙🏻‍♀️:
A beautification potion for you and your bath! Feel beautiful inside and out through self care and self love!
•Green Tea Buds 
•Green Tea Leaves 
•Rose Petals 
•Magnesium Sulfate Epsom
• Rose Green Tea 
Vegan-Friendly always