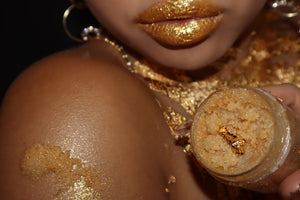 Smell like a tropical paradise with our vegan sugar scrub! 
Shea Butter, Pineapple, and Coconut
Gold Foil is a skincare treatment (will melt into skin) 
99% gold + 1% Silver 
FDA & MSDS certified 
Gold has been used in ancient skincare remedies! 
reducing inflammation and redness.
protecting against free radicals.
supporting collagen production.
fighting aging.