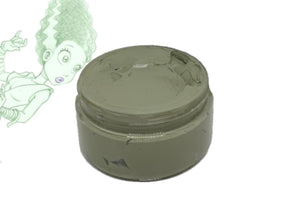 Mrs. Monster needs to have her skincare routine too!
This Green Clay mask deep cleans and refreshes ! 
For: Oily & Acne Prone Skin
Dries up acne pimples, rinse away blackheads and even help shrink enlarged pores.
Simply apply to your face and neck. Within minutes it firms and hardens, as its suction action draws out waste matter from pores. 10 Minutes later, rinse the masque away with warm water and a washcloth. After the masque is removed your skin will feel clean, refreshed, and smooth.
Even for people who are fortunately free of skin problems, FrankenBride's mask is a refreshing facial treatment that eases tension lines on the face and neck.
Distilled Water, Kaolin, Bentonite, Glycerin, Zinc Oxide, Chromium Oxide Greens, Fragrance.